Meet John Laesch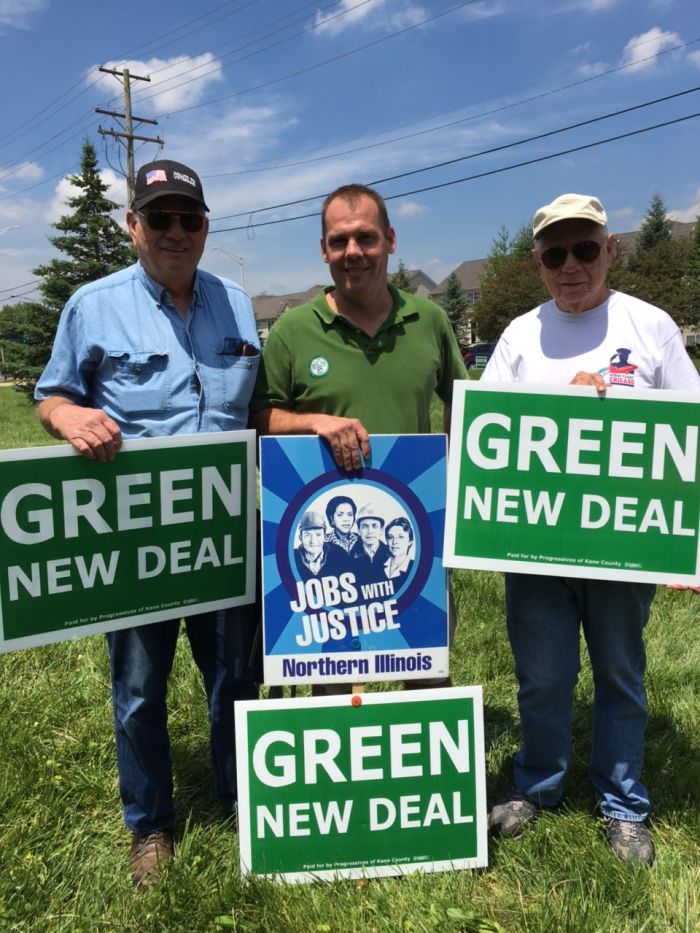 John Laesch was born and raised on the mission field in West Africa. His family moved to the Fox Valley area in 1986 when John was 12 years old. After serving as a military intelligence analyst in the Middle East and earning a Bachelors' degree from Illinois State University, Laesch eventually settled in Aurora in 2008.
John has been active in electoral politics and issue advocacy at all levels of government. He is running for the office of Mayor because he believes in a new vision for Aurora. A vision focused on alternative energy and green building that will carve out a long-term, sustainable future for Aurora's residents and economy. John believes that we can transform the Fox River Valley into an epicenter for green jobs similarly to how cities in Silicon Valley built a landscape for tech jobs.
Following in the footsteps of his grandfather and older brother, Laesch became a union carpenter. John joined up with Local 174. He is a "green builder" and has earned credentials as a BPI-certified energy auditor and envelope specialist. He understands the technical aspects of making commercial and residential living spaces energy efficient. He follows federal, state, and municipal legislative initiatives, and he understands the policy side of the green building world. Laesch advocated for a green building program at the Elk Grove Training Center. The program was adopted and incorporated into their curriculum. John is a proud climate activist focused on addressing the climate crisis.
John has fought for more inclusion of minority members in his union. He continues to challenge racism on the jobsite and wherever he can. He is determined to reform our criminal justice system, ending police brutality and mass incarceration. He believes that solidarity is a verb, and stands with those who are willing to fight for a better life.
Laesch is a community activist focused on empowering workers. As a volunteer organizer and steering committee member for Northern Illinois Jobs with Justice, he was one of the leaders who organized marches and rallies to support workers who were organizing a union at ATMI Precast, an Aurora-based company. Several of his neighbors worked for ATMI, so John seized the opportunity as soon as it presented itself. Following their successful organizing effort, Laesch saw how the union contract changed his neighbors' lives for the better.
When another neighbor, a teacher, was facing a never-ending assault on public employee pensions from Springfield lawmakers, Laesch organized community meetings with teachers and elected officials to pressure the Illinois Legislature. John and his neighbors forced those officials to honor their constitutional obligation and adequately fund pensions. He worked with other organizers across the state to defeat the three-year assault and continues to support the Fair Tax amendment that would bolster the Illinois budget.
John served on the East Aurora School Board from 2015-2019. During this period of service, Laesch was not afraid to be a lone voice on a number of issues. He built support which pushed East Aurora to make a historic move and provide bussing for students. Laesch stood alone in advocating for a living wage for all district employees and the employees of subcontractors. He was the lone voice advocating for a gender neutral bathroom when students requested one, and he continued to push for electric buses, an idle-free zone in front of schools, a green building curriculum, and a deep energy retrofit for the new administrative center.
Most missionary kids are "rootless," and John is no different. By the time he was 30 years old, he estimated that he had lived in more than 24 homes. In October of 2008, Laesch moved to the East side of Aurora, bought a house at 710 S. 4th St., and planted a Burr Oak in the front yard, putting down roots. He chose the 116-year old house because it had character, needed a lot of work, and was a perfect candidate for a deep energy efficiency retrofit. He has methodically gone about making energy efficiency improvements, adding insulation and remodeling the inside. The improvements he made reduced home heating costs in the dead of winter from $500 per month to $100.
John is running for the office of Mayor to share a transformative vision for this city.